Short on time? Jump to:
In this unprecedented time where the terms social distancing and self isolation are commonplace literally around the world, it's likely you are feeling unsettled and looking for ways you can support yourself and those you love.
In addition to following the advice of frequent handwashing and social distancing, supporting your immune system with nutrient dense, Eat Clean foods should be at the top of your list.
What Are Immune Supporting Foods?
Immune supporting foods are clean foods filled with vitamins, minerals, fibre, trace elements and molecules of every kind. These foods power up your three trillion cells, supporting the bodily workings that create a glorious, healthy you.
Clean foods are defined as whole, nutrient dense, minimally processed, well-sourced and properly prepared.
Here is a list of several foods you can add to your self-isolation eating to strengthen your immune system right now.
Bone Broth and Bone Marrow
Bone broths, made from fish, poultry and other livestock, along with plenty of herbs and vegetables, form the basis of a solidly immune support diet.
The value of bone broth and marrow can be measured in their mineral content. Minerals confer bone strength, organ health, and disease resistance. Adding one bone broth based meal to your daily diet makes a world of difference to your health. And while fighting diseases like COVID-19, these foods support your immune system.
5 Favourite Recipes That Help Support Your Immune System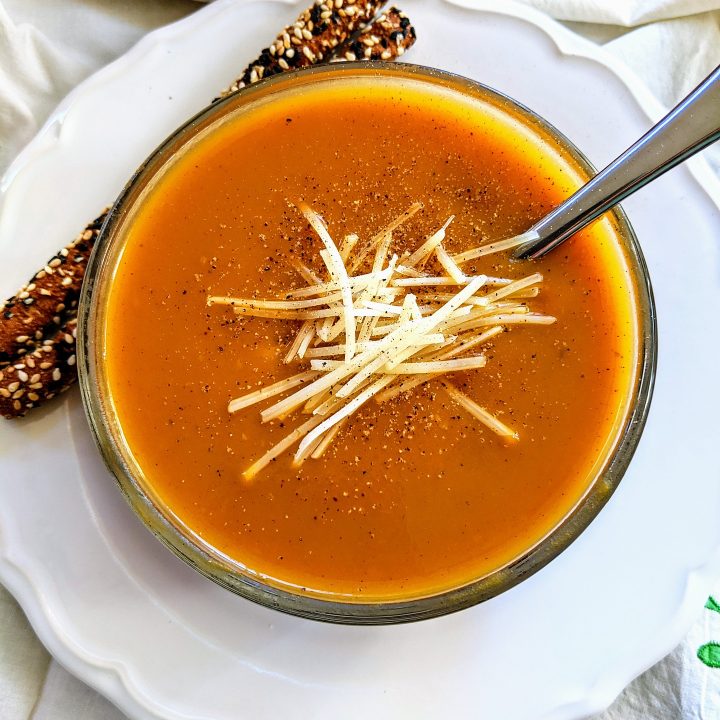 Tosca Reno's Roasted Butternut Squash Soup
Ingredients
1 large butternut squash about 3 pounds, peeled and seeded and cut in 1- inch chunks
1 yellow onion chopped
1 teaspoon kosher salt
1/2 teaspoon black pepper
4 cups bone broth
Instructions
1. Preheat the oven to 425 degrees F.
2. Place the squash and onions on a rimmed baking sheet and drizzle with olive oil, salt, and pepper. Gently toss everything together to coat the squash.
3. Spread the squash and onions into one layer (if needed, use two pans to avoid overcrowding) and roast for 25 to 30 minutes, turning once halfway through.
4. Let the veggies cool down enough so that you can work with them and then place the roasted squash and onions in a high speed blender along with the broth.
5. Blend until you have a rich, creamy soup (adjust broth as needed, you may need a little more or a little less).
6. Transfer to a pot and heat over a medium heat until warmed through. Adjust seasonings and enjoy.
Recommended Products
As an Amazon Associate and member of other affiliate programs, I earn from qualifying purchases.
Water
Water could very well be the king of all nutrients, especially given the knowledge that the coronavirus prefers a dry entry point. Keeping your throat and nasal passages moist will create a barrier the virus won't like and may make it harder to readily penetrate.
Water is, however, the number one nutritional deficiency in North America. You'll need to up your intake to the recommended 3 litres per day and do your best to stick to that.
THE REHYDRATION FORMULA:
for every 8 ounces of dehydrating beverage drink 12 ounces of water
[thrive_leads id='3052′]
Loaded Veggie Burgers
Ingredients
2 Tbsp olive oil
2 medium onions, peeled and chopped
4 cloves garlic, peeled and chopped
1 teaspoon dried basil
1 teaspoon Herbes de Provence
1 teaspoon dried oregano
2 cups canned black beans (or mixture of black and other), drained and rinsed, roughly puréed.
2 cup fresh organic parsley, chopped
2 Tbsp sesame oil or herbed olive oil
1/2 cup raw, unsalted almonds, chopped and roasted
1/2 cup raw pumpkin seeds, chopped and roasted
1 cup raw, unsalted sunflower seeds, chopped and roasted
3 cups fine sourdough bread crumbs
1/2 cup tamari
5 duck eggs (chicken eggs are fine too)
2 cups organic carrots, peeled and grated
2 cups gluten free rolled oats, not quick cooking
1/4 cup flaxseeds
flour for dredging - don't add to bowl
olive oil for cooking burgers - don't add to bowl
Instructions
1. Preheat oven to 350 degrees F.
2. Line a large baking sheet with parchment paper. Place baking sheet in hot oven.
3. In a medium to large fry pan, heat 2 tablespoons olive oil and sauté onions.
4. Add garlic after about 3 minutes of cooking.Continue to cook for another 2 minutes or until onions are soft and translucent.
5. Remove from heat and place in large mixing bowl. Set aside and let cool.
6. To this mixture add other ingredients, except eggs and tamari.
7. In a separate smaller bowl crack the eggs and mix with a fork until blended.
8. Add tamari to egg mixture and stir well. Pour into large bowl with the other ingredients. Mix until all ingredients are well combined and mixture compacts.
9. Heat the same fry pan you used for the onions and garlic, adding olive oil for cooking the burgers.
10. Using a 1/3 cup measure, scoop out mixture and shape into patties.
11. Dredge in flour and place in hot pan. Brown on both sides.
12. When browned, transfer each patty to the baking sheet which is already in the oven.
13. Continue to create burgers until all of the mixture is used up, browning burgers in batches and transferring to hot oven as you go. You may have to add more oil as you go.
Notes
Serving Suggestion: Dress burgers as you would dress a burger. Serve on sourdough or whole gain buns.
Freezing Suggestion: This recipe made 18 burgers for me, using the 1/3 cup measure. I cooked them all and then let them cool. Then I transferred them to a freezer safe storage container, arranging burgers between layers of waxed paper. Place the container in the freezer and remove burgers as needed.
Recommended Products
As an Amazon Associate and member of other affiliate programs, I earn from qualifying purchases.
Soaked and Fermented Grains
Eating "soaked oats" or "overnight oats" is a big trend at the moment and you may want to consider adopting that trend now if you'd like to give your immune system some help in the face of COVID-19.
The secret is to soak grains before consuming them in order to neutralize phytic acid. Phytic acid is a natural agent in grains (and seeds) that serves as an envelope, protecting the seed until it's time to grow.
But phytic acid interferes with mineral absorption. You can't extract the goodness out of the grains if you haven't soaked them first. Grains soaked and soured in a water and whey or kefir mixture, offer more minerals, B vitamins, enzymes and fibre.
Take it a step further. Do not place your mixture in the fridge. When you prepare it, let it then sit on the counter overnight or for another 24 hours to maximize the fermentation process. More glow for you!
Cottage Cheese Pancakes
Ingredients
½ cup cottage cheese
½ cup rolled oats (no pre-cooking necessary)
3 eggs
Toppings: Blueberries (optional)
Instructions
1. Use a medium mixing bowl, food processor or blender.
Place all ingredients in whatever preparation vessel you are using and process until smooth.

2. Heat griddle or frying pan to medium high heat. Add coconut or avocado oil.

3. Pour batter into hotpan.

4. Cook until bubbles start to appear. Cook until both sides are golden brown.
Recommended Products
As an Amazon Associate and member of other affiliate programs, I earn from qualifying purchases.
Greens, greens, and more greens!
Leafy greens are nutrient-dense powerhouses, packed with antioxidants that will support your immune system during this stressful time.
Antioxidants are disease fighters. Bring them on board for your quarantine eating. Kale and cabbage are great options during these times as they tend to store easily for longer periods of time.
The lesson is to eat a wide and plentiful array of greens to capture all the phytonutrients, micronutrients and macronutrients available to us via greens.
Protein Pancakes Recipe
Yield: 12 servings

Prep Time: 10 minutes

Cook Time: 1 hour

Total Time: 1 hour 10 minutes

These protein packed pancakes are straight from my book the Eat Clean Diet®
Ingredients
4 whole eggs
1.5 c almond flour (J.K or Bob's Red Mill)
1/2 c coconut, banana or chickpea flour
2 scoops protein powder of your choosing (use the scoop measure given in your powder)*
2 tsp cinnamon
1 Tbsp vanilla extract
Dash of sea salt
2 Tbsp coconut oil (for griddle/pan)
 
*If you don't have protein powder you can use these instead:
*1 pint blueberries
*2-4 large scoops of baked Pumpkin, Butternut Squash, or Sweet Potato
*2 tsp pumpkin pie spice
Recommended Products
As an Amazon Associate and member of other affiliate programs, I earn from qualifying purchases.
Nutrition Information:
Yield: 12 Serving Size: 1
Amount Per Serving: Calories: 247Total Fat: 13gSaturated Fat: 4gTrans Fat: 0gUnsaturated Fat: 8gCholesterol: 63mgSodium: 69mgCarbohydrates: 21gFiber: 5gSugar: 8gProtein: 14g

ToscaReno.com, occasionally offers nutritional information for recipes contained on this site. This information is provided as a courtesy and is an estimate only. The nutriotion information comes from online calculators. While toscareno.com attempts to provide accurate nutritional information, these figures are only estimates. To obtain the most accurate nutritional information, you should calculate it with the actual ingredients used in your recipe.

[thrive_leads id='3052′]
Grandma's Old Fashioned Amaranth Oatmeal Cookies
Yield: 24 very large cookies
Ingredients
2 2/3 cup grass fed butter
1/2 cup coconut sugar
3 large organic eggs
1 Tbsp vanilla
2 tsp cinnamon
4 cups spelt, barley and brown rice flour mixture
7 cups large flake, gluten free oats
1 cup popped amaranth
1 tsp unrefined salt
Optional additions:
1 cup chopped nuts of your liking
1 cup dried fruit - raisins or cranberries
1 cup chocolate chips
(go crazy and add them all if you like - you will make more cookies)
Instructions
Preheat oven to 350 degrees F.

Line two baking sheets with parchment paper.

Cream butter until smooth.

Add coconut sugar and cream again until sugar is well incorporated into the butter.

Add eggs, one at a time, beating well between additions.

Add vanilla, sea salt and cinnamon, and mix.

Incorporate flour and oats into batter.

Add dried ingredients, if using.

You will have to use your hands at this point as the batter gets very heavy.

Mix until all ingredients are well incorporated.

Using a 1/3 cup measure, scoop dough balls onto prepared baking sheets.

Press dough flatter with fork or hands.

Place cookies in oven to bake for 12 - 15 minutes or until golden on top.

Remove and let cool.
Recommended Products
As an Amazon Associate and member of other affiliate programs, I earn from qualifying purchases.

If you make any of these recipes be sure to share them on Facebook or Instagram and tag me (@toscareno) so that I can see what you're creating and give you a virtual high five! I'm sharing other recipes and wellness tips daily there right now as well to support my community during these periods of uncertainty and isolation. Join me there, we're all in this together!
Oxo,
Tosca
[thrive_leads id='3052′]