Raise The Bar

2.0


Exclusive Membership
NEW! 2023 Revised Program Levels
A Consistently Delivered Plan of Action to Rock Your
Eat Clean™ Lifestyle
A collection of monthly tools & resources
You'll Rock Your Eat-Clean™ Lifestyle Like You've Always Wanted To
Every month you will receive fresh new content delivered to you in an easily accessible online format that will help you stay on track and make the most of your wellness journey.
In Your Kitchen – Learn fundamental Eat-Clean™️ principles and get seasonal monthly recipes, videos, and inspo photos to help you regain your old self and shed pounds.
In Your Gym – Get your body moving with a monthly workout plan to build muscle, lose weight, and tone your body without expensive workout equipment or gym memberships.
​In Your Mind – From Tosca's heart to yours. Inspiration, tips, and monthly mindfulness guidance to creating better habits so you can live life in clarity and peace.
Regain control of your health and join thousands of others in achieving the Eat-Clean™ lifestyle you've always wanted.

THIS is how you connect, grow, and succeed with Tosca!
Monthly Video Message from Tosca Reno
Exclusive Monthly Eat Clean™️ Recipes, Grocery List & 'Easy Buy' links
Facebook Community Access
Exclusive Monthly Workout Program with targeted circuits
Monthly mindset blog, video, and activity
Curated List of "Tosca Recommends" Meal Prep & Fitness Equipment
Members-Only Program Discounts

Facebook Community Access & Support — Join alongside thousands of others!
Everything in Entry Membership, PLUS…
2 x Live Group Sessions with Tosca Reno each month
Early Bird notice and pricing on all new program launches
Weekly Accountability Journal
15% Discount on all Programs*
*excluding Group Coaching
Everything in Entry & Engage membership, PLUS…
Instant Access to ALL existing Tosca Reno programs ($667 Value!)*
*Strike Sugar 2.0, Booty Burner, FitCommit, 22-in-22, Smoothie Playbook, and more!
Instant access to all NEW Tosca Reno programs as they're released!
15% Discount on Group Coaching Program ($344 Value!)
Early access to wellness retreats and special events
Monthly Draw for a Private 1:1 Session with Tosca Reno ($849 value!)
Over $1850 in bonuses!!
"You need that opening, that moment…
when you finally decide to give yourself permission to change."
Frequently Asked Questions
DO NOT DELETE!
Your content goes here. Edit or remove this text inline or in the module Content settings. You can also style every aspect of this content in the module Design settings and even apply custom CSS to this text in the module Advanced settings.
Why Membership?
No one should do this alone. I've specially designed my membership to promote positive identity, build a community of support around you, provide a framework of commitment and accountability, and ultimately increase your chance of success on your wellness journey!
Membership also provides the best access to ME! I'm only one person, and in order to reach thousands of people each and every month, I need a vehicle that can give you access to my thinking, experience, expertise, proven track record, heart, mind, and personal time. Membership is how my community works best, sees results, and grows together. That's what the Eat Clean™ lifestyle is all about – your complete wellness.
Can I stop my membership at any time?
YES! If at any time you feel like you do not want to continue with your Raise The Bar membership program, you can cancel your membership within your customer account.
Why is the Tier 3 Elevate membership only available annually?
Elevate gives you instant access to all of my programs in addition to all of the wonderful features and content of the membership program. You will receive immediate value with your membership which is why we need to protect that content and relationship with purchase. Additionally, you have irrevocable access to more than $1850 in bonuses to enjoy!
DO NOT DELETE!
Your content goes here. Edit or remove this text inline or in the module Content settings. You can also style every aspect of this content in the module Design settings and even apply custom CSS to this text in the module Advanced settings.
How much direct access will I have to Tosca?!
There will be plenty of access to my thought-leadership through my monthly articles, videos, recipes, workouts, lists, and community. You can have direct access to live teachings, trainings, and Q&A sessions twice a month through my Tier 2 Engage and Tier 3 Elevate memberships, including a monthly draw to win a FREE 1:1 session with me!
What if I don't like some of the recipes?
No one likes every kind of food! While I try very hard to provide delicious options each month, if a recipe doesn't serve you, try another or substitute ingredients. There will be no shortage to choose from.
I'm strapped for time, especially when it comes to dinner! How complicated/time-consuming are the recipes?
Time is the only resource you can never renew. Most recipes can be made in under 30 minutes, some even less. The goal is to make you fluid in the kitchen so mealtimes don't have to make you break into a sweat.
What if I'm vegan (or keto, paleo, etc.), would I still benefit from this?
Varying eating styles and preferences can still benefit from the Raise The Bar With Tosca Reno membership. All will be respected and reflected in the program. However, the information and recipes will be presented so you understand their full nature.
Will I be able to feed my (picky, inflexible) family with these tools and recipes?
The Eat Clean™ lifestyle can benefit any member of your family from babyhood onward. Exercise, Eating Clean, and the Emotional Self-care tools presented can be enjoyed by all members of the family.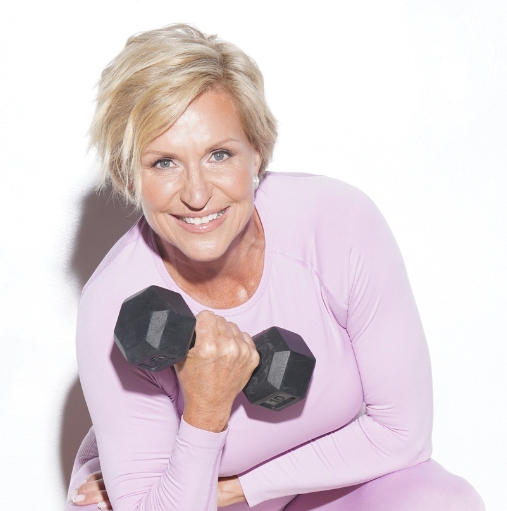 I'm the New York Times Best Selling Author of the Eat Clean series and founder of the Eat Clean Revolution.
I have developed the Eat Clean lifestyle and helped millions take back their wellness and their lives through Eating Clean.
My recipes are based on natural ingredients, delivering only nutrient dense and delicious results – food to build your life on.
I'm the product of my product – I lost 84 pounds of unhealthy fat 20 years ago and I feel fantastic!