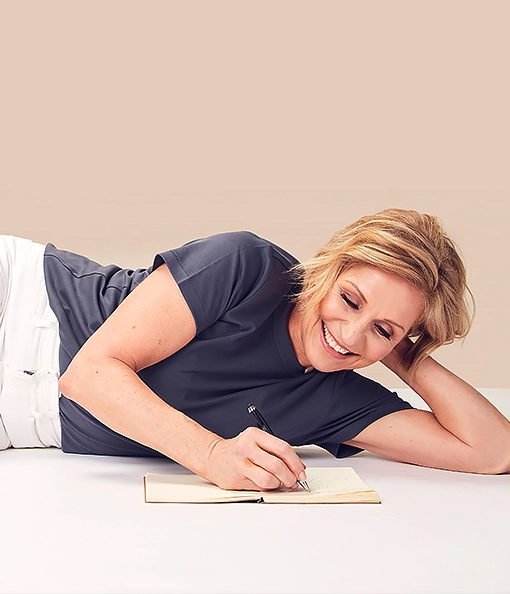 The Ultimate Guide to Women's Exercise Apparel

In this article, I'm covering all the activewear pieces you might need or want, what to look for when shopping, and an example of each piece. 
Start here:
Clothes that look stylish, feel comfortable, and perform well.
What you wear for your workouts is deeply personal. You may want to look good while you run your 8-minute mile. Or you may not care what you look like as long as your deadlift form improves. On the other hand you may hate working out, and you just want something that feels as cozy as your pajamas to trick yourself into thinking you're still in bed. It's all valid.
Let's start with the basics.
Most people with breasts understand the necessity of a good sports bra but don't spare a second thought for panties and socks. It may seem over-the-top, but the right socks and underwear can significantly impact your health.
Champion Women's Sports Bra
$28
Pros
Designed for high impact
Moisture-wicking
Wire-free
Generally, high-impact sports bras will have thicker straps to distribute the weight a little more evenly on your shoulders. They often have a racer back, meaning the straps come together in a T shape, freeing your shoulder blades to move more easily.
For more support, you'll probably want a sports bra with a closure rather than one that just pulls over your head. This allows more compression and, by extension, more support.
This Champion high-impact sports bra is an outstanding example.
Fruit of the Loom Women's Breathable Underwear
$8 – $50
Pros
Moisture-wicking

Plus size & straight size options

Breathable cotton mesh
Cons
They're likely to cause panty lines
Let's talk about panties. Many people wear thongs and G-strings to the gym to avoid panty lines, to feel more comfortable, or to get a better range of movement.
It's okay if you prefer to work out in a G-string, but you should know it can be risky.
Wearing thongs generally makes it easier to develop UTIs because your underwear pushes bacteria toward your urethra. The risk becomes even higher when you're working out because all the sweat and moisture gets trapped down there, introducing the potential for vaginal infections alongside UTIs.
Your best bet is cotton, non-thong underwear that allows the area to breathe.
These Fruit of the Loom sets are specially designed to allow airflow.
Saucony Performance Heel Tab Athletic Socks
$15
Pros
Specific sizing
Vented design for breathability
Cushioning in high-impact areas
Cons
Multiple colors increases risk of mismatched pairs
Just like shoes, socks significantly impact how your feet feel during and after your workout.
The ideal gym socks should have additional padding, especially in the spots where your feet are prone to blisters. If you've got plantar fasciitis, you should look for socks with extra support in the arches.
Your socks should be breathable, so look for options made of nylon or a cotton-poly blend.
These Saucony socks make a smart option.
Most people primarily sweat from their torso, which means lightweight tops made of moisture-wicking fabric are particularly useful.
As for fit, that primarily comes down to wearers' choice.
You can see more about the best workout tops here.
CRZ YOGA Seamless Workout Tank Top
$28
Pros
Built-in bra

Moisture-wicking

Supports with compression
Cons
Built-in bra won't suffice for all sizes
Tank tops are popular for most indoor workouts because they keep the wearer cooler and allow for plenty of arm and shoulder mobility. For additional mobility, spring for a racerback like this one.
Under Armour Women's Tech V-Neck
$16
Pros
Lightweight fabric

Moisture-wicking

4-way stretch
Cons
Some color options may be slightly see-through
If you're uncomfortable going bare-shouldered or want more coverage, a short-sleeved tee can still give you a wide range of motion. While any t-shirt will work, finding something lightweight and moisture-wicking is a good idea so your shirt doesn't get heavier as you sweat.
BALEAF Women's Long Sleeve Shirts
$20
Pros
50+ UPF
Flatlock seams
Quick-drying
Cons
Some users find sizing inconsistent
Long-sleeve shirts are often worn for outside workouts in cooler weather, but they can also be worn on sunny days. The extra coverage helps protect your skin from sunburn.
If you plan on pushing your sleeves up, you may want them to have flatlock seams to prevent chafing.
For pants and shorts, comfort is usually the priority, although some people really value tummy control, too.
Regardless of the length you choose, your workout bottoms should generally be stretchy. Flatlock seams are essential to prevent chafing, especially for leggings, bike shorts, and other options that sit right against the skin. If you're doing something that involves working on form, like squatting, you may find form-fitting pieces more helpful.
Speaking of squatting, make sure any bottoms pass the squat test. Some activewear bottoms are thin enough to become see-through when stretched over a squatting body. Make sure yours are thick enough to stay opaque.
Take a look at the best pants and leggings for exercise here, or see the best exercise shorts here.
THE GYM PEOPLE High Waist Yoga Shorts
$20
Pros
Deep pockets
Quick-drying
Legs don't roll or ride up
Say what you will about high-waisted shorts, they have 2 substantial advantages: there's no risk of bum crack when you bend over, and the waistband usually gives you some tummy control.
These shorts from THE GYM PEOPLE are a top-notch example of a high-waisted bike/ yoga short.
SPECIALMAGIC Capri Sweatpants
$25
Pros
Pockets

Drawstring for secure fit

Relaxed fit
Cons
May be too warm for some users
Capri-length pants are very popular for yoga and some kinds of martial arts because they offer more coverage (and often a more relaxed fit) but don't create a risk of impeding stance strength or footwork.
These sweat-style capris are a cozy option for warming up, cooling down, and everything in-between.
HISKYWIN Inner Pocket Yoga Pants
$26
Pros
Multiple pockets
Hidden pocket in waistband
Gusseted crotch
Cons
Runs smaller than average
Generally speaking, the elements you should look for in long pants are the same as those in shorts and capris: flatlock seams and stretchy fabric that's thick enough to pass the squat test.
One extra feature to look for is a crotch gusset: an additional piece of fabric in the crotch to prevent "camel toe."
These yoga pants are a trendy take on full-length activewear pants.
The best footwear for you really depends on your gait and the type of workout you do. There are endless types of exercise shoes, but for the sake of this article, we'll focus on hiking boots, running shoes, and training shoes.
You can see more running and training shoe options here.
Columbia Women's Newton Ridge Hiking Boot
$58 – $90
Pros
Waterproof
Breathable mesh
Omni-grip tread for all seasons
Suitable footwear is crucial for your safety and enjoyment when hiking. Your hiking boots or shoes should feature plenty of support and flexibility but enough rigidity to keep you from rolling an ankle.
Ideally, hiking boots should be as light as possible so walking doesn't exhaust you. And, of course, the tread on your boots should be rugged and textured, with a prominent heel.
The Columbia Newton Ridge Hiking Boot is a versatile, lightweight boot, making it a perfect example.
Nike Air Zoom Pegasus 36 Running Shoes
$110 – $144
Pros
Targeted breathability
Outsole pistons to absorb shock
Zoom air unit creates smoother steps
Cons
Some users felt heels sat too high in shoes
Running shoes are typically designed to absorb the most impact in the heel, as most people strike the ground with their heels first when they run. Then, the shoe helps the foot roll through the step for a smoother transition.
When buying running shoes, you should look for something lightweight with quite a bit of cushion. If you run indoors or on paved surfaces, it's best to get a thicker sole. For trail running, you may want something slightly thinner.
Ryka Women's Influence Training Shoe
$58 – $90
Pros
Ergonomic sole with pivot-point
100% fabric uppers for breathability
Foam insoles retain shape
Cons
 Narrower fit than average
While running shoes are designed to move in one direction (heel to toe), training shoes are made for more dynamic movements. They can facilitate side-to-side movements more effectively than running shoes and usually feature a flatter, more flexible sole.
Like running shoes, you'll want to look for something lightweight. The soles may have less give or shock absorption, so it's best only to wear training shoes inside.
The Ryka Influence training shoe gives you the flexibility you need without sacrificing support.
What to Look for when Buying Activewear
Generally speaking, good activewear should have 3 things in common: moisture-wicking, breathability, and chafe protection.
Moisture-Wicking
Sweat dampens your clothing, which causes it to cling to you. This is uncomfortable, and it restricts your range of motion. Not to mention that wet, sweaty clothes expose you to bacteria that could disrupt your skin's biome, possibly resulting in infection.
Workout clothes that draw moisture away from your skin help you feel fresher longer so you can focus on the task at hand.
Breathability
Airflow through your workout gear is essential because it helps keep you cool and comfortable. But, much like moisture, a lack of fresh air creates a perfect environment for bacteria to form on your gym clothes.
Breathability is a matter of comfort and health.
Chafe Protection
You can't perform your best when distracted by an annoying tag or an uncomfortable seam. Activewear that doesn't chafe helps you work out more effectively. Choosing clothing with flatlock seams, tagless labels, and crotch gussets makes your workouts more comfortable and reduces the risk of skin irritation.